What does my UMAT Score mean?
What is a good UMAT score?
When will UMAT results come out?
UMAT 2018 results will be released on the 6th of September 2018 at 10.30am. Your results will be available via the UMAT ACER account.
Do not hesitate to contact if you are unsure how to interpret your UMAT results or just talk to us via the chat icon found at the bottom right corner of your screen.
Preparing for Medical Interviews
Medical Interview Workshops Dates - enroll today, spots are limited!
Comprehensive Medical Interviews Package
Medical Interview Techniques Textbook
Which universities do no require a UMAT score?
Preparing for the UMAT and and how to interpret your own UMAT NIE practice test scores:
Attempting UMAT-style questions under the same conditions as the real UMAT is very important for anyone who is thinking of sitting the UMAT anytime in the near future. The main purpose of the trial paper is to identify weaker and stronger areas of the applicant's performance. This can be achieved easily by simply analysing the raw percentage of questions that were marked correctly during the trial test. While this information is important in order to plan ones preparation strategy, it is also very important to understand 'how ready' the applicant is for the real test compared to others who will sit the UMAT.
The exact methodology used by ACER to calculate UMAT scores has never been disclosed to neither the public nor any other organisation including universities, colleges and any UMAT preparation organisations. And even if ACER was to share the information about the method of calculating the actual raw UMAT scores and UMAT percentile, this information would be deemed unusable, unless ACER would also share performance reports of the entire UMAT cohort for that particular year. Therefore, any advice or mark forecasts provided in this guide, are merely estimates based on NIE's past experiences and analysis of NIE's past student performance and how the results compared to the students' UMAT performance.
Firstly, let's read and understand what ACER says about the UMAT scores. The following explanation points have been extracted and paraphrased from official ACER UMAT Results document as disclosed to the public in 2017.
Is there a pass or fail for UMAT?
There is no 'pass' or 'fail' for UMAT. The universities use UMAT Scores differently and set their own UMAT cut-off scores each year. These are the minimum UMAT scores acceptable for consideration by the university and vary from one university to another. NB: The UMAT Office cannot give information regarding cut-off scores.
Do UMAT Scores show the number of questions correctly answered?
No. The number of questions you had right has been scaled to obtain your UMAT Score.
What is the maximum possible UMAT Score?
The maximum possible UMAT Score can differ from one component of the test to another, and from one year to another. Each of the 3 construct scores is expressed on a scale of 0 to 100.
What does the percentile rank mean?
A percentile rank indicates how a candidate performed in relation to all other candidates who sat UMAT in the same year. Percentiles do not allow comparison between candidates who sat the test in different years.
How is the Overall Score calculated?
The Overall UMAT Score is an unweighted aggregate of Score 1, Score 2, and Score 3, statistically calculated from several decimal places. The Overall score is calculated before the rounding of section scores. It is not possible for candidates to replicate this process.
IMPORTANT: Candidates will not be provided with any additional information on the scoring process. All such information remains the property of ACER and the UMAT Consortium. A candidate has no right to examination of ACER's scoring processes and methodologies.
Australian Council for Educational Research (ACER), UMAT Scores, 2017
Some important points to consider
Before you get into analysing your own UMAT scores and in turn overly criticising your own performance, you need to understand a couple of very important points:
UMAT is a heavily scaled test and hardly anyone ever gets all questions right. Those that do, are far and few. Therefore, your expectation of what a good mark is, needs to be more realistic and in tune with the marking criteria.
If you find a construct difficult, chances are that others do too. So, do not be too harsh on yourself.
If you are a beginner, chances are that you will score below 18 correct questions per construct. This will more than likely put you in the bottom 20th percentile. This is not because you are incapable in doing well in the UMAT, it is simply because UMAT is a culling test, and so the largest number of applicants with most common scores end up in the bottom 20th percentile. Things will get better with consistent practice.
Sample Statement of UMAT results
Note: Scores shown below are not accurate and are only an example of how the UMAT scores are presented.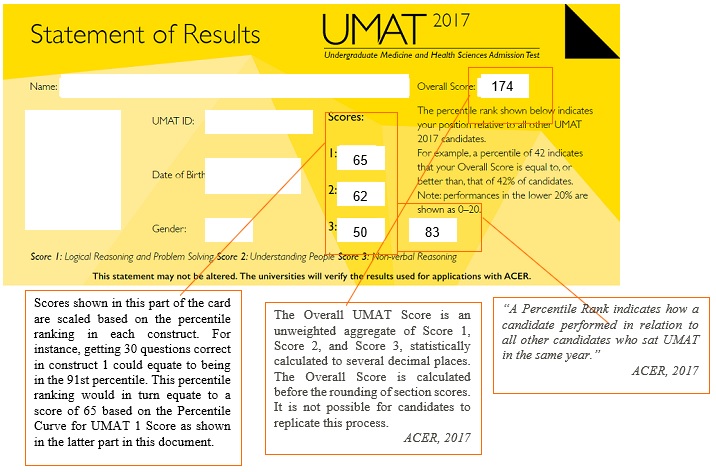 How can I mark my performance?
Count and record the number of questions that you got correct in each construct of the NIE time trial paper. It would be ideal to mark each construct in two categories. One that takes into account only the questions that you actively solved; and another category that would take into account all correct answers including the ones you have guessed. This is an important step as the guessing strategy will not always work the same.
Compare your construct scores against the estimated UMAT score tables, provided below. Match your NIE score to the NIE score-guide shown in blue and convert them to UMAT scaled scores shown in red. Note, that these are rough estimates based on UMAT 2017 scaling curves (curves change slightly every year). Also, we have adjusted the scaling slightly in order to address the more difficult and longer stimulus information that students have to encounter during the trial paper.
Once you have got your scores for all three constructs, add them together and calculate your final percentile ranking (based on last graph 'Overall Percentile Curve') for this paper. Note, that in the real UMAT the addition of the three scores also would be subject to scaling based on aggregate and can take a couple of marks off the raw total. But this is something that we can not replicate unless we had a much larger pool of scores to compare. We are aware that some companies have calculators on their online platforms, but please be mindful of these as they are not very accurate and can lead to a false sense of confidence when it comes to understanding your UMAT-readiness.
Construct 1 score estimator:
Table 1: NIE trial test scores estimated conversion table into ACER UMAT scores for Construct 1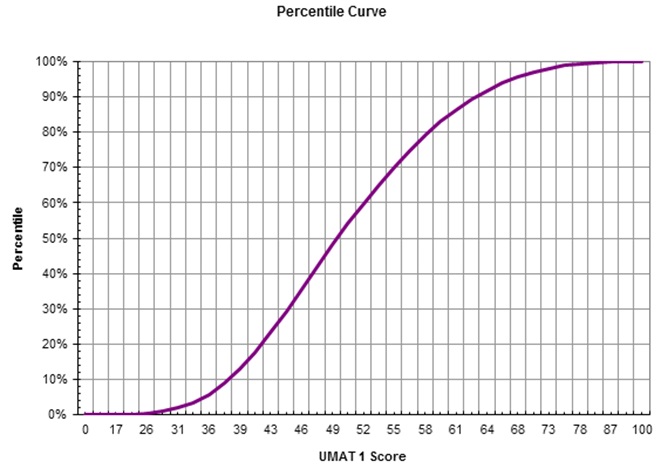 Graph 1: Percentile curve graph for Construct 1 UMAT, ACER 2017
Construct 2 score estimator:
Table 2: NIE trial test scores estimated conversion table into ACER UMAT scores for Construct 2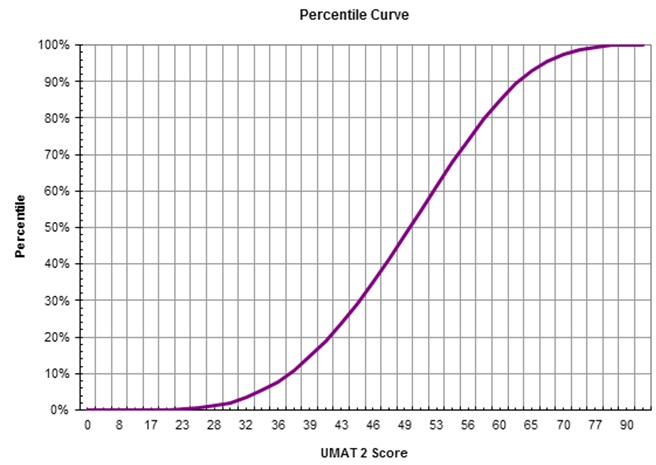 Graph 2: Percentile curve graph for Construct 2 UMAT, ACER 2017
Construct 3 score estimator:
Table 3: NIE trial test scores estimated conversion table into ACER UMAT scores for Construct 3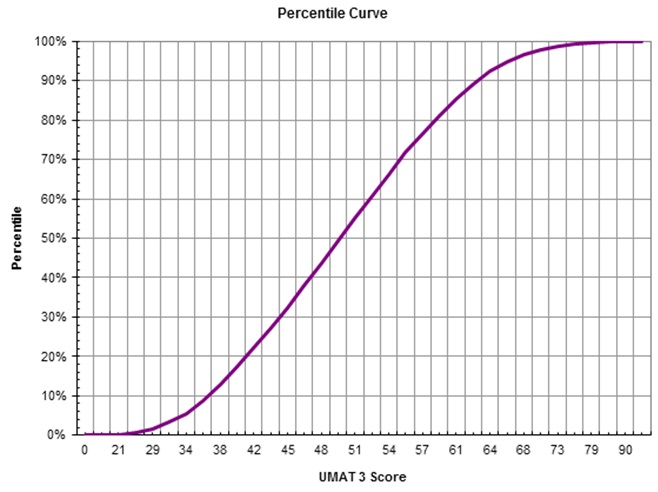 Graph 3: Percentile curve graph for Construct 3 UMAT, ACER 2017
Overal Percentile Curve: