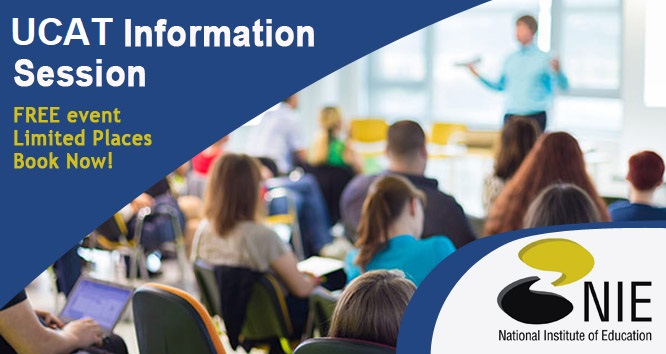 ---
Wish to stay informed about our future events? Then please subscribe to our newsletter.
Newsletters for students & parents Subscribe                                          Newsletters for Teachers  Subscribe
Pathways into Medicine and Dentistry Live Webinar (FREE event) 
15 November 2023 (7:00 - 9:00 pm AEDT)
Are you currently studying in years 10, 11 or 12?
Are you considering a career in medicine or dentistry?

If you have answered yes, then you may need to sit a compulsory entry exam known as UCAT (Undergraduate Medicine and Health Sciences Admission Test) before you can apply to certain universities!
The National Institute of Education (NIE) is proud to present the free information seminar all about UCAT and the undergraduate pathways into medicine, dentistry, and some other health science programs. The session is PACKED with loads valuable information during which we will be covering the following topics and more. 
This forum is an excellent opportunity for teachers, students, and parents to find out about the UCAT and to have their questions answered by an expert who has been working in the field since 1999.
What is UCAT? UCAT scores? UCAT Sub-tests?

The Undergraduate Selection Criteria

Application process into universities for medicine and dentistry

When and who can sit the UCAT

UCAT vs GAMSAT - How is UCAT different?

Can you prepare for the UCAT?

Undergraduate medical school interview explained and medical school interview preparation advice

Gap Year

Alternative degrees and career choices

Q & A
Please note that this information seminar is not a UCAT preparation workshop. If you have already attended an information seminar by the National Institute of Education in the past and would like to attend a UCAT preparation workshop or enroll in a complete UCAT or Interview training course, then please browse the NIE website for details about dates and events near you.
Post-UCAT Advice & Medical Interviews Information Session, Live Webinar (FREE event) 
This webinar is for those who wish to apply to medical/dental schools this year. For those who sat the UCAT and for those who did not.
This event took place on 23 August 2023. If you missed the webinar, you can request the recording by sending an email to:
REGISTER for future upcoming free events at NIE. 
This webinar is an excellent opportunity for students, parents, and teachers to find out about the post-UCAT steps medical school applicants are required to take. 
The session is packed with invaluable information during which we will be covering the following topics: Your UCAT Scores and what they mean, applying to universities that do not require UCAT (JCU and Bond), Medical Interviews for undergraduate medicine and dentistry courses, Interview structures and assessment criteria by universities, Take a look at a few sample questions, Medical interview preparation advice, Q and A
---
UCAT NIE Resources and Services include:
UCAT Preparation Courses and Services
Coming Up!
Attention Years 9, 10, 11 and 12 and anyone else who is considering to sit the UCAT.
LIVE-online UCAT Training Workshop - LIVE ONLINE INTERACTIVE WORKSHOPS In 2023  (24th September, 16th December and 27th January 2024)
University Application Review Service
Medical Interview Workshop and 1-on-1 Personalised Training
 NEW Programs: 
     *  Future Doctors Australia Program - 4 days, 9am - 4.30pm attendance experience. (Limited spots)
     *  Academic Insights Program - 11 days residential experience: Choose from Medicine, Psychology, Engineering, Business Management, Creative Writing, International Relations, Veterinary Studies (Limited spots)