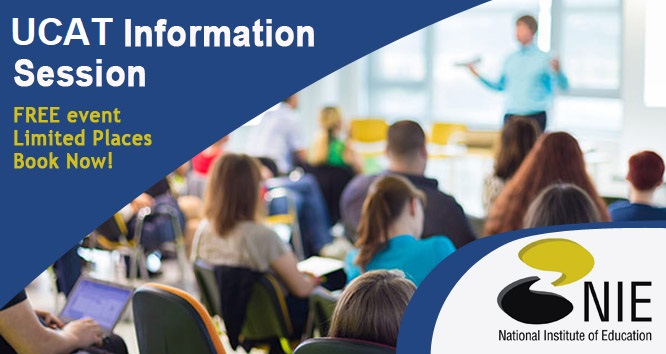 ---
Wish to stay informed about our future events? Then please subscribe to our newsletter.
Newsletters for students & parents Subscribe                                          Newsletters for Teachers  Subscribe
18th April 2023 (7:00 - 9:00 pm AEDT): Pathways into Medicine and Dentistry Live Webinar (FREE)
Are you currently studying in years 10, 11 or 12?
Are you considering a career in medicine or dentistry?

If you have answered yes, then you may need to sit a compulsory entry exam known as UCAT (Undergraduate Medicine and Health Sciences Admission Test) before you can apply to certain universities!
The National Institute of Education (NIE) is proud to present the free information seminar all about UCAT and the undergraduate pathways into medicine, dentistry, and some other health science programs. This is NOT a sales/advertising/promotional seminar.  The session is PACKED with invaluable information during which we will be covering the following topics and more. 
This forum is an excellent opportunity for teachers, students, and parents to find out about the UCAT and to have their questions answered by an expert who has been working in the field since 1999.
What is UCAT? UCAT scores? UCAT Sub-tests?

The Undergraduate Selection Criteria

Application process into universities for medicine and dentistry

When and who can sit the UCAT

UCAT vs GAMSAT - How is UCAT different?

Can you prepare for the UCAT?

Undergraduate medical school interview explained and medical school interview preparation advice

Gap Year

Alternative degrees and career choices

Q & A
Please note that this information seminar is not a UCAT preparation workshop. If you have already attended an information seminar by the National Institute of Education in the past and would like to attend a UCAT preparation workshop or enroll in a complete UCAT or Interview training course, then please browse the NIE website for details about dates and events near you.
---
UCAT NIE Resources and Services include:
UCAT Training - Choose from UCAT Platform to Complete Preparation Courses 
Coming Up!
Attention Year 10, 11 and 12!  
LIVE-online UCAT Training Workshop - LIVE ONLINE INTERACTIVE WORKSHOPS In 2023  (22 April, 20 May, 10 June, 24 June & 8 July)
2023 In-person Workshop Dates now available to enrol in for - Sydney, Brisbane, Adelaide and Melbourne
University Application Review Service
Medical Interview Workshop and 1-on-1 Personalised Training